This week (6-12 February) is National Apprenticeship Week, a week that brings together businesses and apprentices across the country to shine a light on the positive impact that apprenticeships make to individuals, businesses and the wider economy.
To mark the occasion, Radii Planet Group has caught up with our apprentices across the company to find out more about their experiences, their day-to-day lives and their highlights from their time with us.
For our first interview we are speaking to Tom Peake, 21, who has been working with Planet Partitioning's southern contracting team since late 2021 as an Apprentice Assistant Contracts Manager while also studying for a Construction Site Supervisor Apprenticeship at Croydon College.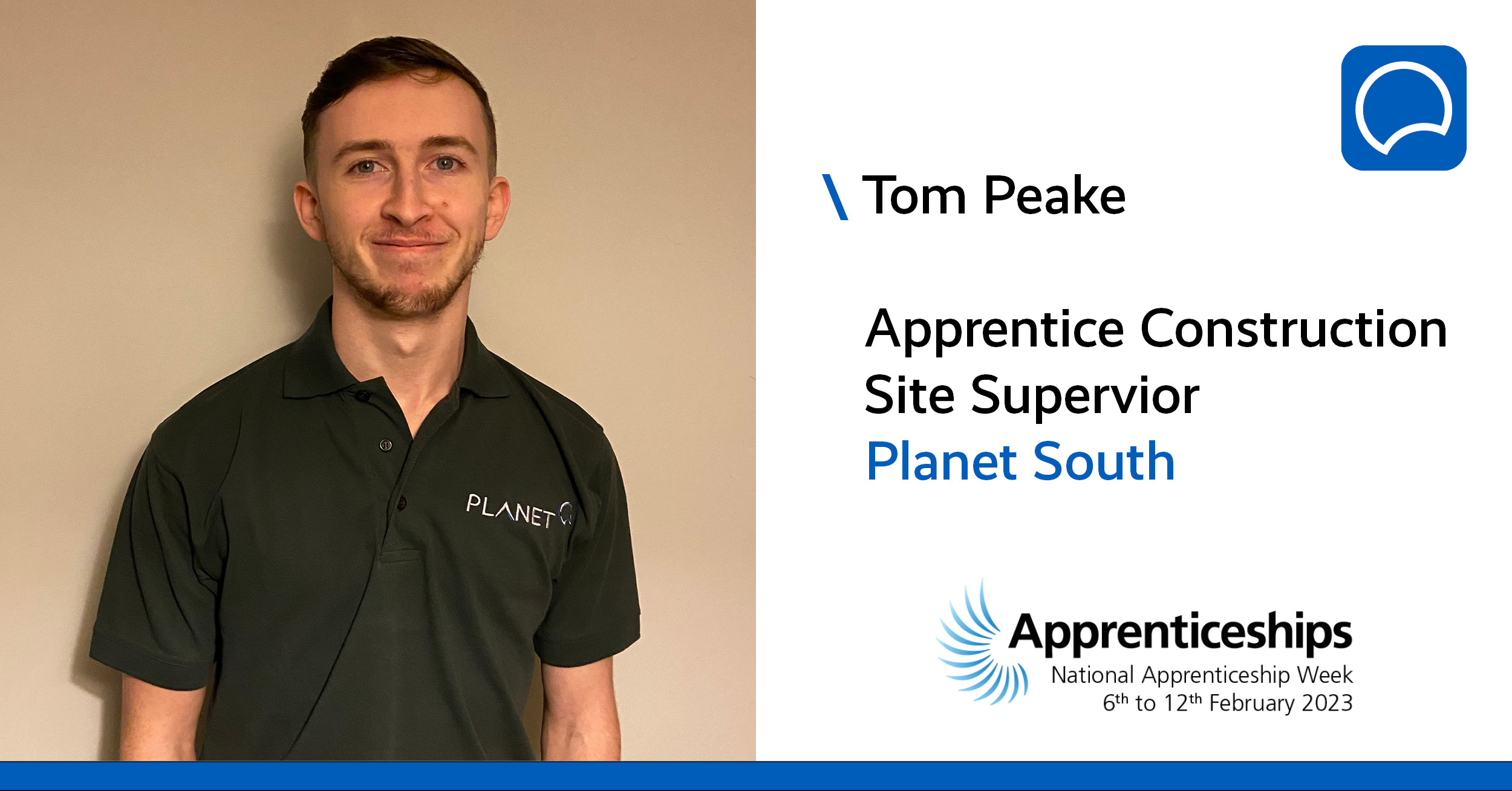 What were you doing before working at Planet?
Before Planet I was in college education for Game Development and working part time at Curry's PC World.
What attracted you to do an apprenticeship?
The attractive points for me that led me to start an apprenticeship are the opportunities for on the job learning, as I learn quicker with practical application, and the chance to do a lot of networking within the industry.
Why did you choose an apprenticeship with Planet?
I chose Planet because my father Matt, who also works for RPG as part of Radii Architectural Glass, introduced me to the opening at the company as he knew I was in the job market looking to start a career. He told me about what the company specialise in and I then went on the company website, looked at project photos and came to the conclusion that Planet would be a great starting point for getting a foot in the industry.
What are your main responsibilities as an apprentice?
I am currently in charge of making all O&M manuals and cost trackers for Planet South's projects. Alongside this, I travel to sites in London to learn hands-on from our Project Managers. For example, working with my colleague Louis Eastwood at Kings College Hospital I have been placed in charge of the ITP sheets for that project, which requires me to travel to site at least twice a week to ensure that the ITPs are kept up to date.
I also fill a supervisor role to the labour on site and make sure that they have everything they need, as well as keeping Louis in the loop of anything that happens on site that he isn't there to witness i.e. if deliveries have turned up, if labour on site require more fixings or material and other such things of that nature.
I've also helped 'on the tools', installing our systems when we have had a labour shortage and accompanying the PM for the project to site and working for three weeks to get the project complete.
What does a typical day in the office look like for you?
Arrive for 9am, check my emails and respond and then I'll send out any O&M manuals that are ready. I will do this throughout the day as required. Furthermore if I receive back as built drawings or Certificate I'll work on the ITP sheets for projects, or I'll open up the unallocated project folder and check that all the newest projects have a cost tracker made. If not, I'll go through and make them.
If I'm heading up to London for a site visit, then I'll aim to arrive at site for 9am (or earlier if required). Once I arrive at site, I do a quick walk around to find any changes made since my last visit and then I'll meet up with the labour team and check in with them. I'll proceed to take photos of anything that needs updating on ITP sheets and once I have my photos I will aim to stay on site for a while to check in again with the labour team in case they need anything before back to the office.
How are you finding the balance between working and studying?
Balancing the two can be a challenge, for me especially the studying aspect! But it must be said the company and Croydon College are both very supportive and flexible to help me deal with any issues or obstacles I have with studying and work.
What's the most exciting project / piece of work you've been involved in?
This is a tough question because I've experienced a lot in the short time I've been here, but I'd have to say going up to London to new sites is very exciting because every site you go to is different. And, alongside building my knowledge about the products and services through attending site, I also enjoyed getting to learn more about London itself as a city as well as the professional experience!
What has been your biggest achievement at Planet so far?
So far I would have to say it has been helping Kings College Hospital come to completion through my work on the ITPs and helping in other areas too.
How has the apprenticeship helped you develop and grow as an individual?
I have learnt about how to deal with people, materials and improve my time management skills.
It has also helped me mentally, as I am now in more of a routine than what I was when I was at college before this apprenticeship which is very welcome.
What advice would you give to future apprentices joining Planet/RPG?
Don't shy away from tasks that wouldn't normally fit your job role — everything is good experience and will help you understand how the whole project process gets from tender right through to client handover and how all the pieces of the puzzle fit together.
What are your plans for the next stage of your career?
I wish to continue with the team at Planet South for the foreseeable and keep learning and gaining experience until I reach a point where I feel confident enough to potentially move up to a move senior role within the company.
---
Thank you to Tom for answering our questions about his experience undertaking an apprenticeship.
Read about our other two apprentice interviews here:
Foyzur Rahman, Apprentice Contracts Manager at Radii Partitioning Ltd
Josh Clarke, ACCA Management Accountant at Radii Planet Group