This week (6-12 February) is National Apprenticeship Week, a week that brings together businesses and apprentices across the country to shine a light on the positive impact that apprenticeships make to individuals, businesses and the wider economy.
To mark the occasion, Radii Planet Group has caught up with our apprentices across the company to find out more about their experiences, their day-to-day lives and their highlights from their time with us.
For this interview we spoke to Foyzur Rahman, who has been working with Radii Partitioning since late 2021 as an Apprentice Assistant Contracts Manager while also studying for a Construction Site Supervisor Apprenticeship at London South Bank University.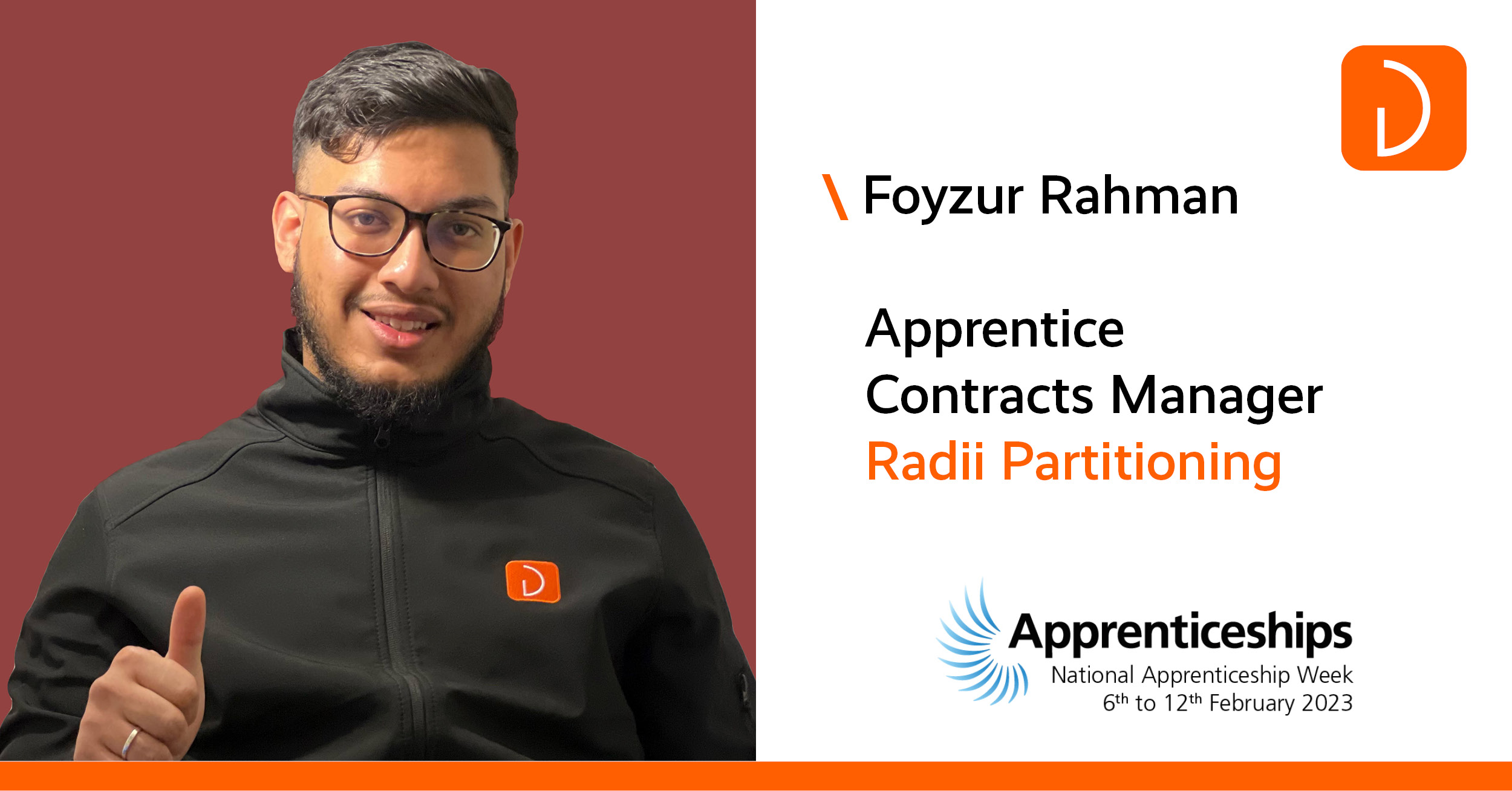 What were you doing before working at Radii?
I was working from home with the NHS. I was getting bored easily and did not like staring at a screen 24/7.
What attracted you to do an apprenticeship?
I decided to go with an apprenticeship as I think I am more of an on-the-job learner, having a mix of education and actual experience has no negatives. Time management gets a bit difficult at times but knowing that I am building experience and working towards a qualification helps me to keep going.
Why did you choose an apprenticeship with Radii?
The opportunity had popped up and I initially did not know how I felt as I had no construction experience at all, but the job description sounded like a good entry into the industry, and I couldn't pass it up. I checked out the website and some of the case studies looked good, and I wanted to be a part of the bigger process that creates that final product.
What are your main responsibilities as an apprentice?
My main responsibilities include:
Weekly health and safety returns while ensuring that the H&S folder is up to date.
Ordering requisitions and materials that the guys on site require.
Completing weekly progress reports so that every department is kept in the loop about what is happening on site.
Ensuring the product matches drawings.
Stay on top of logistics, deliveries and bookings.
Attend any on site trade coordination meetings, H&S meetings and MC DABS.
Check materials individually for complex builds.
Help with close out and SnagR
What does a typical day in the office look like for you?
I spend most of my time on site, however when I am completing documents such as RAMs, O&Ms and other documents I like coming into the office as it is a better environment for those sort of things. On site it is a mix of filling out these documents and what I have listed above.
How are you finding the balance between working and studying?
90% of the time it isn't much of an issue, however as exam dates and coursework deadlines approach, I find that I am dedicating a lot of time to studying. Planning ahead for projects not only helps with my job but it allows me to create time for my studies, although it is strenuous at times, I always remember how close I am to completing my apprenticeship.
What's the most exciting project / piece of work you've been involved in?
One of the cooler projects I have been involved in is Netflix, although I was completely new and wasn't as involved but the design and the actual product itself was very cool. I wish I could have been involved with the knowledge and experience I have now.
What has been your biggest achievement at Radii so far?
I believe it is BP, as my colleague Sam was lead Contracts Manager but he taught and allowed me to run certain parts of the job and I felt as if I contributed heavily to the completion of this job.
I am most proud of the knowledge I have gained, as I went from being a sponge on site (just absorbing information) to physically running the job for short amounts of time. I am also looking forward to Magnetar Capital, the first job I will run on my own from the beginning, I am planning and preparing for this and although it is small I hope it will become by biggest achievement so far.
How has the apprenticeship helped you develop and grow as an individual?
The apprenticeship has opened many doors for me, as I go university with people who I could possibly be working with in the future. Also being on site has allowed me to gain confidence in speaking to main contractors, labourers, fixers and other trades which was super scary in the beginning. However, as I have been given more authority and responsibility, I'm able to come to site and speak to whoever necessary, which makes the job a lot easier as we have a lot of communication and reliance on other trades.
My technical skills and knowledge have also been given a big boost, I can easily understand drawings and produce mark ups. I am able to look through the necessary documents (MALs, PFKs etc) to find the information I need, or a fixer needs and then go to the according department to help me deal with whatever issue I am facing.
What advice would you give to future apprentices joining Radii?
My biggest piece of advice would be to not be afraid and throw yourself in the mix. If you are ever stuck and have exhausted your options, there are countless people willing to help. I have made many friends in the company who I know will help me if I get stuck, and it is not restricted to just the company. You will be surrounded by experts and professionals on site who are friendly (most of the time) and are willing to answer any questions you have. One of the biggest reasons I am currently in this apprenticeship is the people around me.
What are your plans for the next stage of your career?
I plan to stay at Radii and become a full time Contracts Manager, getting the qualifications, knowledge and experience I need. I also hope to one day work abroad for a few months as I enjoy construction and architecture and would like to see how it works on a global scale.
---
Thank you to Foyzur for answering our questions about his experience undertaking an apprenticeship.
Read our other two apprentice interviews here:
Tom Peake, Apprentice Construction Site Supervisor at Planet Partitioning Ltd
Josh Clarke, ACCA Management Accountant at Radii Planet Group